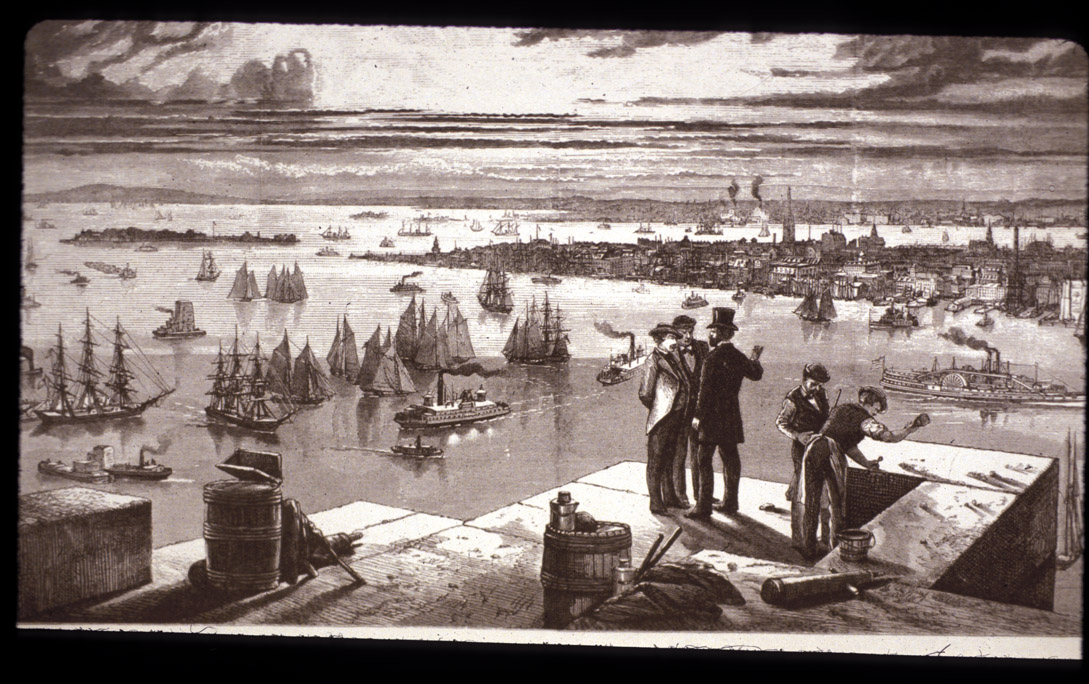 자료: http://ocw.mit.edu/ans7870/11/11.001j/f01/lectureimages/8/image3.html
***
OLD WAYS OF CROSSING THE RIVER.; How the New Yorker Found His Way to Long Island in Bygone Days and How He Gets There Now.
Section: Special Long Island Section, Page XA3, 926 words
FROM the birch bark canoe and paddle of the Indian, buffeted by wind and wave, to the huge underground and underwater tube of steel, with its swift running electric train, unaffected by storm or fog, is a tar cry, but such has been the great evolution in the transit of the East River.
( .... continued)
***
(중략)
Brooklyn is connected to Manhattan by three bridges, the Brooklyn, Manhattan, and Williamsburg bridges; a vehicular tunnel, the Brooklyn-Battery Tunnel; and several subway tunnels. The Verrazano-Narrows Bridge links Brooklyn with the more suburban borough of Staten Island. Though much of its border is on land, Brooklyn shares several water crossings with Queens, including the Kosciuszko Bridge (part of the Brooklyn-Queens Expressway), the Pulaski Bridge, and the JJ Byrne Memorial Bridge, all of which carry traffic over Newtown Creek, and the Marine Parkway Bridge connecting Brooklyn to the Rockaway Peninsula.
Historically Brooklyn's waterfront was a major shipping port, especially at the Brooklyn Army Terminal in Sunset Park. Most container ship cargo operations have shifted to the New Jersey side of New York Harbor, while the city has recently built a new cruise ship terminal in Red Hook that is to become a focal point for New York's growing cruise industry. The Queen Mary 2, the world's largest ocean liner, was designed specifically to fit under the Verrazano-Narrows Bridge, the longest suspension bridge in the United States. The Queen Mary 2 makes regular ports of call at the Red Hook terminal on her transatlantic runs from Southampton, England.New York Water Taxi offers commuter services from Brooklyn's west shore to points in Lower Manhattan, Midtown, Long Island Cityand Breezy Point in Rockaway, Queens, as well as tours and charters. A Cross-Harbor Rail Tunnel, originally proposed in 1920s as a core project for the then new Port Authority of New York is again being studied and discussed as a way to ease freight movements across a large swath of the metropolitan area. (중략)